Click here to download a GPX file you can load onto your bike computer.
Click here to download a FIT file.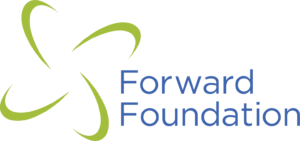 Who we are
The Forward Foundation (formerly known as The Sophie House) empowers single, working mothers experiencing crisis to build an independent, secure, and healthy future for themselves and their children. We have worked hard to thoughtfully design a program that fosters the resilience and independence of the women and families we serve so they can "move forward."
Mission
"Empowering Action to Move Forward"
Empowering single mothers to move forward from crisis to a stable, independent future for themselves and their families
Our why
Navigating single parenthood is tough; even more so when dealing with financial hardship and minimal, or no support. Many of these women suffer in silence as they are too proud to seek assistance. These moms are used to being the "fixers" and taking care of others, so reaching out for help is challenging for them. We want them to know it is alright and there is support available to them. With one out of four homes in America being single parent households, and 81% of those being led by single mothers, the need is dire.
What we do
Qualified working, single mothers are eligible to receive subsidized childcare assistance and educational services. This aid allows them the opportunity to earn an income; hence providing stability and independence for their family
The mothers we serve often do not qualify for other community lifelines, such as rental and food assistance and childcare subsidies. They are often navigating the end of an unhealthy relationship, divorce, illness, or loss of a spouse that has precipitated financial crisis. During what can feel like a very isolating and uncertain time, we help single mothers take a step forward by helping them build community and gain valuable skills.
In conjunction with our collaborative partners, we equip our moms with vital resources and basic knowledge in the areas they need to best care for their children. Our in depth, comprehensive program prioritizes financial literacy, but also provides access to professional workshops centered around legal, career advancement, wellness, and life skills.
We work with financial advisors who offer individual consultation on saving, family budgeting, and long-term financial planning. There is a case manager on staff, and we are building a referral network of family counselors and attorneys. This network will offer affordable access to mental health services and legal consultation.
Milestones are set up for our mothers to meet throughout the year, as well as requirements to complete a certain number of volunteer hours per month. Upon completion of the program our mothers return as mentors to a new cohort of women. We believe it is crucial that they are as vested in their future as we are. We are providing them a hand up, not a handout
Event details
GO FORWARD Team Ride is a virtual, family friendly event that can take place anytime and anywhere you'd like between now and Nov. 1st.
Virtual participants have the option to ride (stationary bikes work too!), walk, or run. This is a great way for the whole family to get involved and we are encouraging participants to get creative. Your little ones can ride or walk laps with you in the neighborhood or local parks.
Follow us on LinkedIn, IG, Facebook, and Twitter. Share pictures of yourself and others with our hashtag #goforwardtogether.
Register and encourage others to join you by support you with a pledge of $1.00 or more per mile/lap, or a donation can be made directly to Forward Foundation via the donate button.

Sponsorship opportunities still available – contact Andrea Starr
This is a great opportunity for the whole family to get outside, breathe fresh air, spend quality time together, and move their bodies! The bonus is that you are able to support a local nonprofit organization in your community that assists those most in need.
Our team captain, Jay Smack, and his crew will be riding (50) miles from Bryan Park to Ashland and back on October 24th to raise money on behalf of the Forward Foundation. We will be sharing footage and photos on our social media platforms.
Why this event so important to us
Forward Foundation is working diligently to support, educate, and empower single working mothers and their children as they navigate through financial crisis. Our mission is still strong and we are committed to helping them achieve financial stability and independence.
Since the pandemic began we have increased the families we serve by 30%. We anticipate that those numbers will continue to rise.
Fundraising is a crucial part of our revenue stream, so getting creative and coming up with an idea that would allow for safe participation and social distancing was challenging. Due to the COVID-19 pandemic our last two fundraisers had to be cancelled.