Welcome to Jay Smack's page for this year's BIKE MS: Colonial Crossroads 2018.
---
The ride already happened (June 2-3), but sponsorships are still being accepted if you'd care to contribute.  Thanks!  Scroll down to see how it all went.
---
UPDATE:
Monday, June 4, 2018
The 2018 MS Colonial Crossroads 150 to benefit the National MS Society happened this weekend.  As usual, it was incredible.  I didn't have a team this year, but my buddy Larry and I rode down Saturday morning with rain in the forecast.  We all shoved off at 7:30.
The Varina High School Band even came out to perform the Star Spangled Banner and send us off.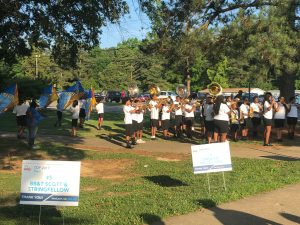 The rain never happened.  We dodged a dodgy forecast and had mild temps all day – around 80 degrees – perfect riding weather.  We got separated but both hooked up with a group all the way to Williamsburg.  It's so helpful to ride with a group and  share time at the front to buffer the wind and refresh your legs from within the security of a paceline.
Here's Larry's group.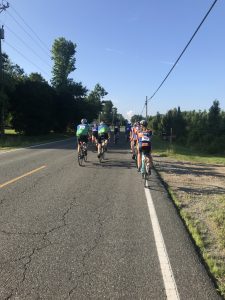 My group splintered and I ended up riding the last 50 miles into Williamsburg with Paul.  He's from Midlothian.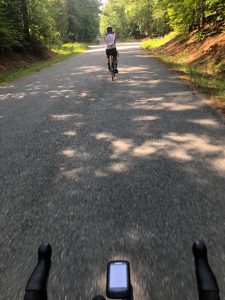 Paul and I talked about MS fundraising, our careers, our families.  You learn a lot about a person when you ride a bike with them for a few hours.
This is the last rest stop at 62 miles.  These young ladies (and gentleman) said we were their first visitors so we made pretty good time.  They had some awesome cookies.  The best ones were called "compost cookies".  (They contained no actual compost.)  And pickle juice!  It's all the rage these days as a sodium and electrolyte-replenishing sports-type drink.  But you gotta really like pickles.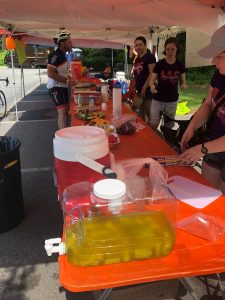 Paul and I pulled into Williamsburg after about 4 hours.  I got my backpack which met me there thanks to the awesome UPS volunteers, some of whom have been volunteering at this event for as long as I can remember.  I see them every year.  This is my bike and pack at the Hilton Doubletree in Williamsburg.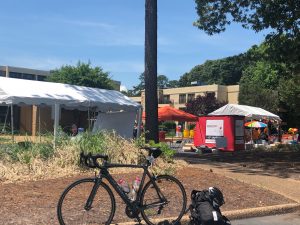 I got something to eat: chicken barbecue and pasta salad.  Talk about hitting the proverbial spot.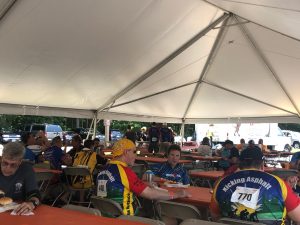 Larry and I hit the hotel and got cleaned up and drank water, water and more water.  And beer.  But just one.  If you don't hydrate and start drinking too early you will literally fall out.  Later that afternoon the power went out at the hotel.  It was caused by a surge, not the approaching storm.  Although it did start to rain heavily in the afternoon.  Due to the power outage, dinner (provided by the hotel and is always great) was delayed.  But everyone stayed in good spirits.  Dominion Power had the power back on within a couple hours and dinner preparation moved forward. We were thinking dinner might be cancelled.  The MS Society folks and the hotel worked like crazy and dinner moved swiftly and efficiently.  It was really rather impressive.  This is the line to the serving tables after they announced dinner would happen at all.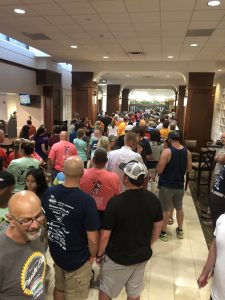 We moved through the line and into the big conference room where the evening's event would be held in under 15 minutes.  I honestly don't know how they pulled it off.  There were several hundred people waiting to eat and they all descended upon the serving tables at once.  The hotel and the MS Society deserve a lot of credit.
Here's the room at the event and awards ceremony.  They recognize top fundraisers and past participants, share inspirational stories, talk about MS programs and breakthroughs, etc.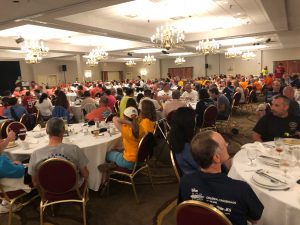 They say this guy has done the ride for 31 years.  Wow.  I'm only at 15.  I've got a ways to go.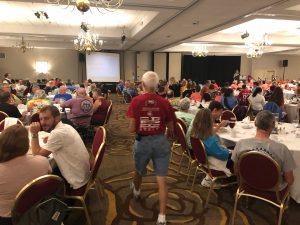 After dinner and the ceremony we headed back to our hotel to turn in.  that night it rained like crazy and the forecast was terrible – lots of rain and flooding likely for Sunday.  They officially cancelled the ride back the next day.  Shuttles would be taking people back to Richmond.  Well, we decided to ride back anyway.  At 6am there was no rain and it was supposed to hold off for a couple hours.  We planned to ride back not on the official route which involved roads, but on the Virginia Capital Trail.  We'd have to ride about 9 or 10 miles to hook up with it outside of Williamsburg, but then it was a straight shot back to Richmond.  Here's our entry point to the trail with an ominous set of clouds awaiting us.  You can actually see it raining a few miles to the west.  Oh well.  We were committed at this point – or should have been. (Mile marker 0 on this map)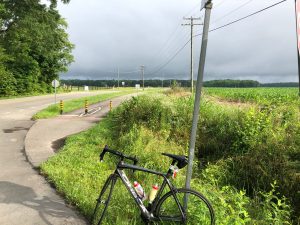 Spoiler alert: it never actually rained on us.  We lucked out big time.  We kept passing through spots that looked like they had been rained on within the last 30 minutes or so, but the worst we ever got was a few drops.  This is us on the Capital Trail.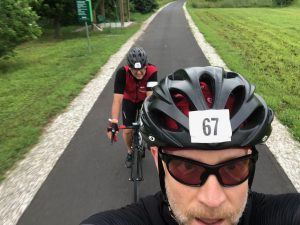 We did hit a flooded creek that was impassable.  We had to get off the trail, get on the road, go around the flooded spot and get back on the trail after about a thousand yards.  And there was this spot which was about a foot deep at its deepest point in the middle.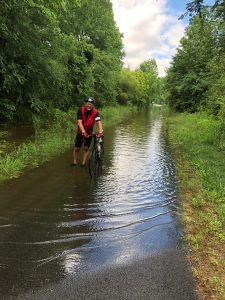 The worst of it was this spot just past 4 Mile Park.  We trudged through a couple feet of water for about 500 feet.
Larry:
Me:
But then the elevation picked up and our destination of Varina High School where our cars were parked was just a few miles away. (Just past mile marker 46 on this map).
So that's it.  We made it!  This ride is always an adventure and the camaraderie and sense of community is incredible.  The MS Society, the sponsors, the volunteers, the vendors who contribute and provide their products and services all deserve tremendous credit and gratitude.  I can't thank all my sponsors enough for their support – especially those who sponsor me every year.  All the riders and volunteers have their stories and their reasons for being involved with the MS Society and this ride.  I do it for a lot of people who've been added to the list over the years, but Jim Phipps and his family are the ones who keep me going.  Jim was diagnosed with MS about 16 years ago and he's always fought it with determination and grace.  He's an amazing guy and he's been very good to Ash.  He's family.  I'll be back next year.  And I'll use this web address again next year too.  Thanks again everyone!
---
Thanks to everyone who came out to the Voodoo Fishermen fundraiser for the Multiple Sclerosis Society at  Palani Drive, Saturday May 19 at 8pm.  We raised some money (over $400!) for Multiple Sclerosis research and programs, saw some family and friends and a great time was had by all.  We sold out of the new Voodoo Fishermen t-shirts, but more will be ordered.  Look for a link to purchase them here soon.  A portion of the evening's proceeds will be donated to the MS Society.
Thanks to Palani Drive and Action T-Shirts for their support!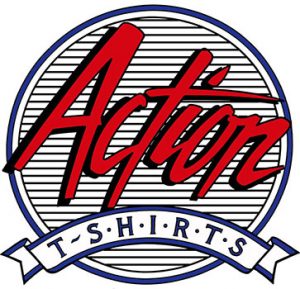 Some pics from the evening below.  Photography by Greg Garner.  Voodoo Fishermen graphic by Jeff Smack.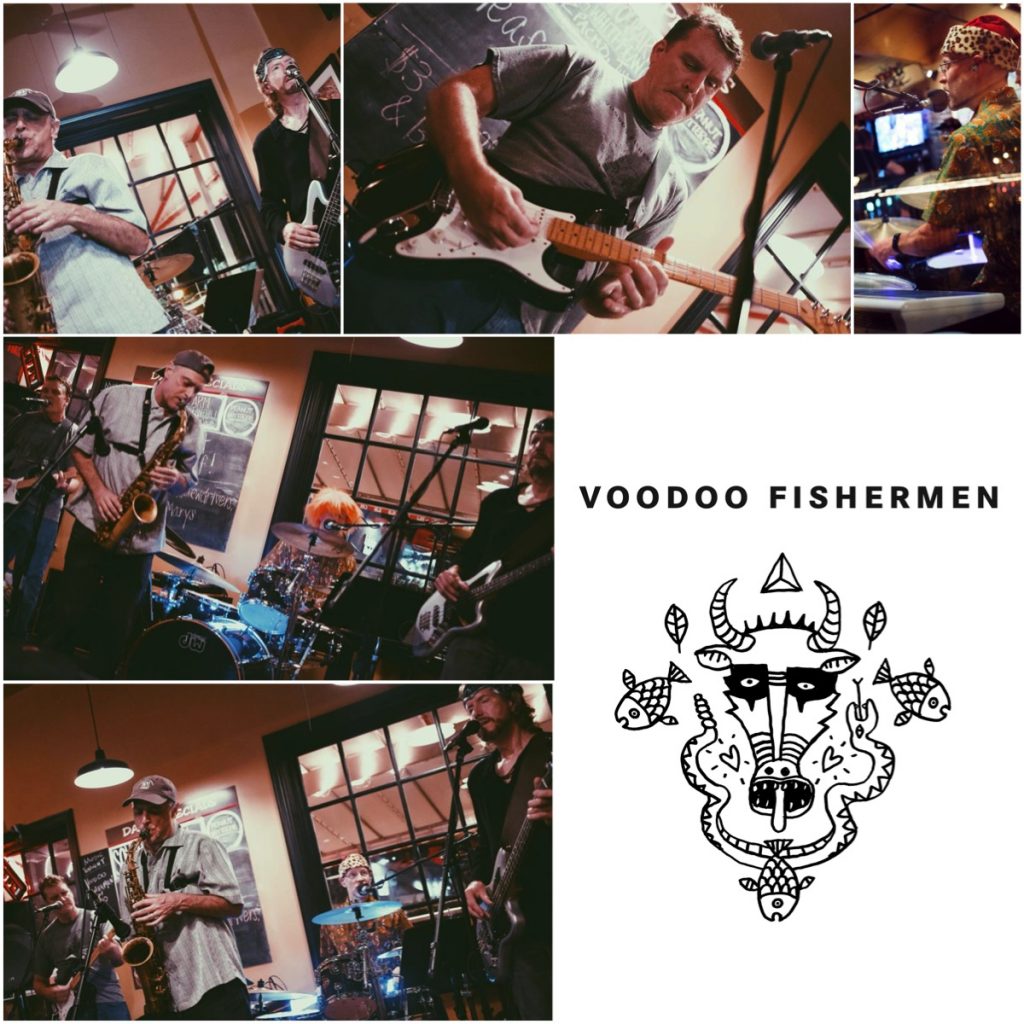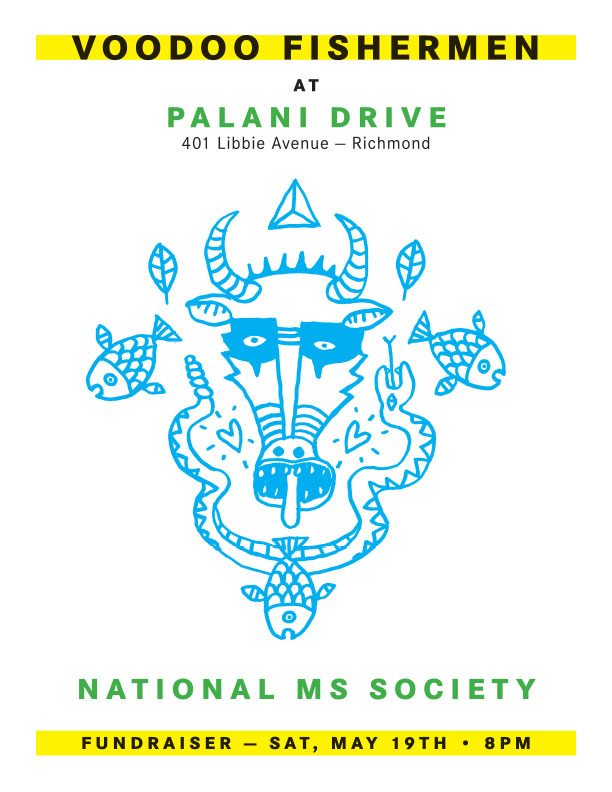 These are the shirts that sold out the night of the fundraiser.  They make great gifts!  Especially if you like confusing your out-of-town relatives who will act like they appreciate the thought.  (Overheard: "Voodoo what?  What's that?")
New shirts will be ordered and ALL sales will be donated to the MS Society as part of the ride sponsorships.  Thanks to Jefe for the design and Action T-Shirts for the printing!
UPDATE: Ok, so, as of this writing (Monday June 4, 2018) the ride happened this past weekend.  BUT, more of these shirts will be ordered and the proceeds will still be donated to MS Society.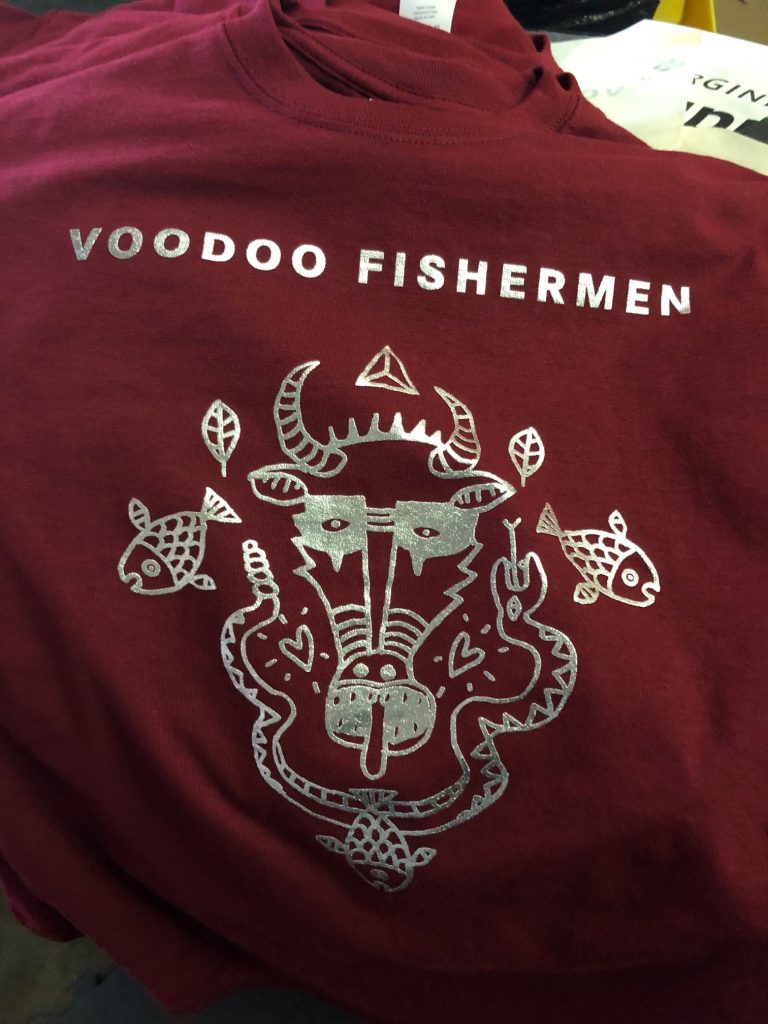 ---
If you 'd like to sponsor me but prefer to do so by check, checks can be made out to "National MS Society".  Please email me for a mailing address.
All sponsorships and donations are tax deductible.
Thank you for any consideration!

This is my 15th year riding against MS.  Over the years I and my fellow riders have ridden for a lot of people touched by the insidiousness of Multpule Sclerosis.  I started riding in 2004 for a dear friend who had recently been diagnosed with the disease.  Since then, each year I've added the names of friends, family members and those of many of my sponsors, not to mention the estimated over 400,000 people in the U.S. and over 2.5 million people around the world who fight it every day.  I'm honored by every sponsorship and every person added to the list of names I carry with me during the ride from Richmond to Williamsburg.  This is all one small part in the fight against MS.
More info:
Click here for my personal page.