Click here to listen to this week's podcast.
(Podcasts usually stay up for 6 – 8 weeks.  This one will stay up for a few months as it's a live performance and those are usually very popular.  Send feedback to studiobrva@gmail.com or smackjay@gmail.com).
Studio B live sessions are very popular with listeners and they're the most fun episodes to produce.  It's just the band or artist, a studio and engineer and me (Jay).  The vibe is casual and the artists really respond to having the forum all to themselves.  When the band is as pro as Paulo and his band are, well.. just listen for yourself.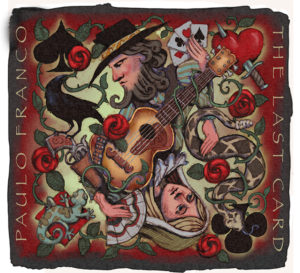 This week I go back to Scott's Addition Sound for another StudioB Live session with Richmond singer/songwriter Paulo Franco and his band. Paulo's performing selections from his new record "The Last Card".
PAULO FRANCO recorded live at Scott's Addition Sound for StudioB
Paulo Franco – guit, voc
Dan Sessler – guit
Dave Hess – drums
Chad Bennett – bass
Jay Smack – host, producer: StudioB
Steve Barber – engineer, Scott's Addition Sound
Greg Garner – photographer
Songs performed (all from "The Last Card"):
1. Rolling Back To Raleigh
2. Love On The Rocks
3. Leaving The River City
4. White Line Highway
"The Last Card"
Produced, Engineered, Mastered by Bob Rupe at P&P Sound Studio, Richmond, VA
CD Release Party for "The Last Card" October 15, 2016 from 1-4 P.M.
@ Capital Ale House
special guests Tin Can Fish Band and Rob Williams
The Last Card is out October 15 on iTunes and Amazon.com.
pre-order the CD at PELFMUSIC.com
other releases:
"The Green Porch Session" with Shane Cooley
"By The Light Of A Paper Moon"
Upcoming shows:
PEFLMUSIC.com/shows
-playing WRIR Fund Drive Monday the 17th
___________________________________
ANTIPHONS – Orchard Graves
-Demos
-April 2015
-new release coming Jan 2017
-recorded at the virginia moonwalker
-engineered by tim falen
-mixed by bryan walthall
-mastered by allen bergendahl
DUMB WAITER – Sports Reference
-Is This Chocolate?
THROTTLEROD – Bait Shop
-Turncoat
THE MEDUSA – Routine Machine
-Demo 2015
JJ SPEAKS – Sneaky Little Wizards
-Sock It 2 Ya
Photos from the Paulo Franco at Scott's Addition session by Greg Garner.