StudioB 2016 0828 with:
Shagwuf, Sacred Teachers, Peoples Blues of Richmond, The Sky, The Smirks, King Sour, VORATOR, Melt, Bat, Druglord.
This episode has been archived.  Episodes are usually posted for about 30 days. Please use the contact page to inquire about archived episodes.
SHAGWUF – Casolette
– Heavy Petting
– Sept 15 at the Pink Moon Festival in Rock Camp WV
-event page: https://www.facebook.com/events/812318402247774/
-Staunton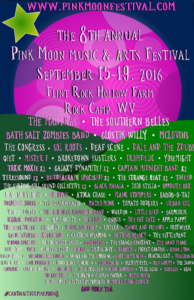 SACRED TEACHERS – Dry River Flood
-At Time Castle
-Four songs recorded in the swamp summer of 2014 at Time Castle in Brooklyn NY.
– facebook.com/SacredTeachers/
THE PEOPLES BLUES OF RICHMOND – Hard-On Blues
-headed out on national tour
-new album "Quit Or Die" on iTunes
-playing a Studio B in-studio session at Scott's Addition Sound
-playing the Broadberry Sept 1
-event page: https://www.facebook.com/events/292529637767611/
-facebook.com/peoplesblues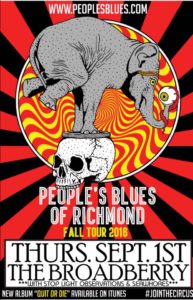 THE SKY – One Day
-Majestic
-Robert Fleischman of Journey, Vinnie Vincent
THE SMIRKS – Scrape
– The Smirks – Sweaty Situations
-Sweaty Situations
-Recorded / Mixed / Mastered by Nik Rodriguez
– facebook.com/thesmirks
SHE'S A LEGEND – Blood
–https://shesalegend.bandcamp.com/
– releasing Sophomore EP "Room 434" on September 16th at Strange Matter with Cute is What We Aim For.
KING SOUR – Math Rock My Ass
-Instrumentally Retarded
– https://www.discogs.com/King-Sour-Instrumentally-Retarded/release/2975596
-Tom Peloso, Austin Fitch, Matt Boyle
-Austin working on new stuff with Tom
VORATOR – Nuclear Poisoning
– Extermination March
– facebook.com/vorator
MELT – Hidden Temples
-single
-at Hardywood 9/16 with Windhand and Druglord
-event page: https://www.facebook.com/events/507224296149188/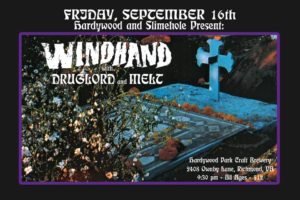 BAT – Bat
-Wings Of Chains
– facebook.com/bewareofthebat
DRUGLORD – Regret To Dismember
-Druglord – Deepest Regrets EP
– facebook.com/DruglordVA