The header image is my brother Jeff and me after our "make-up" ride last year.  We both got Covid the week of the ride so we did our own ride a few weeks later by doing a century ride on the Virginia Capital Trail.
We made it back to the official ride this year.  It was year 20, and it was another great weekend in support of an amazing cause and some of the bravest people you've ever met.  I'm speaking, of course, of all the people fighting MS every day.  Progress has been made, but there's still no cure for this son-of-a-bitch of a disease.  It's slow, progressive, and insidious.  Riding a bike from Richmond to Williamsburg and back is easy by comparison.
Thank you to the MS Society, all organizers, supporters, donors, vendors, partners and riders.
There's still time to support the effort.  Go to jaysmack.com/MS2023 or click the image below to sponsor me.  It's my brother Jeff and me at the start line in Richmond on Saturday, June 3.
CLICK THE PIC TO SPONSOR ME!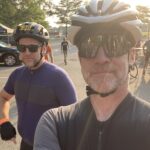 Short clip from the ride from Richmond to Williamsburg on Saturday.